The healthcare recruiting industry has grown exponentially in the past few years. Not only is healthcare the fastest growing industry in the U.S., but it's also consistently in need of talent. With the demand for healthcare, jobs come an equal demand for those who can identify and source qualified healthcare professionals to fill open positions.
This is where healthcare recruiters come into play.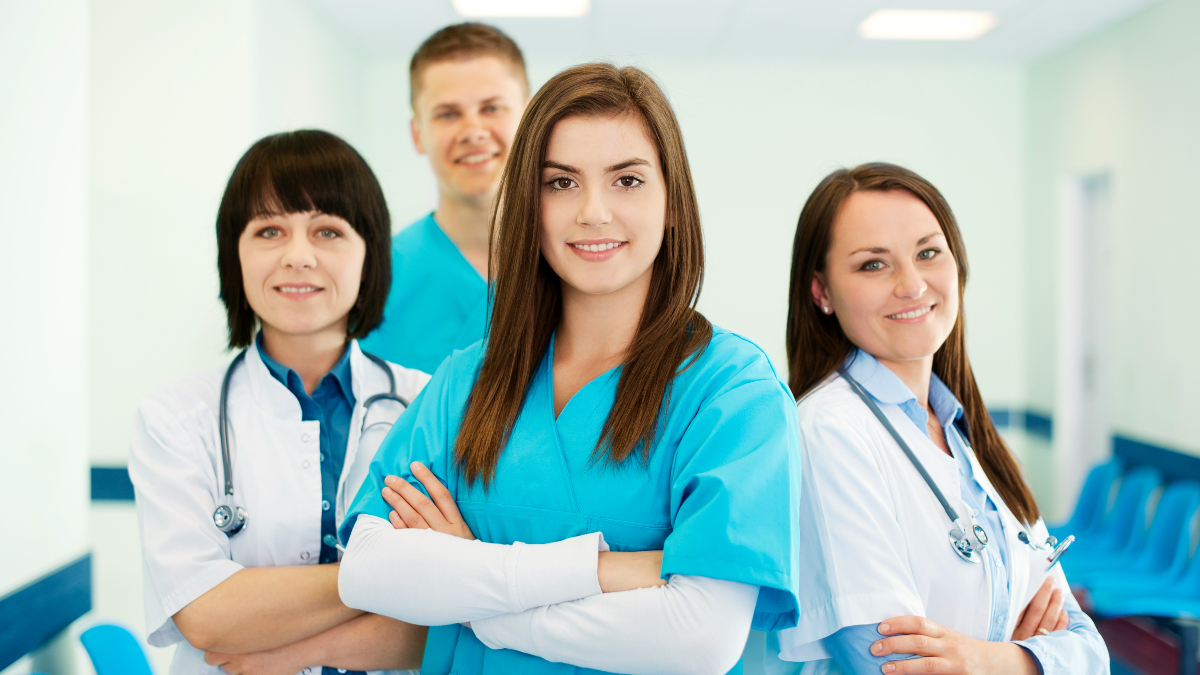 Working in the healthcare staffing industry isn't just a way to remain at the forefront of a rapidly growing industry, it's also an exciting and dynamic career with nearly unlimited earning potential for those determined to succeed, with the added bonus of caring for those who care for us.
A career with options & unlimited earning potential
The world of healthcare recruiting offers a number of options for those looking to pursue this career path. You can either sign up to work with an agency, become an independent or virtual recruiter, or work on an internal team for a hospital or healthcare company.
Healthcare recruiting salaries can vary depending on whether you're a healthcare IT recruiter, a physician recruiter, or work internally recruiting for a hospital. On average, a healthcare recruiter earns about $75,000 per year, although it may be more if commissions are involved.
Top salaries
Below, we've created a chart that outlines the top salaries for healthcare recruiters.
As the chart indicates, working in the healthcare staffing industry can have high earning potential and is incredibly rewarding. So what are the basic qualifications to be a healthcare recruiter?
Requirements to become a healthcare recruiter
To become a healthcare recruiter, most companies require at least a bachelor's degree, although the field can be flexible as to what exactly that degree needs to be. Similarly, most agencies require experience in sales, staffing, recruiting, or human resources, especially if that experience is in the medical field.
If you've already been recruiting for two or more years, you may decide to move to a more specialized field like healthcare recruiting. If you're looking to specialize, make sure you're pursuing continuing education opportunities and staying current with news and trends in the industry. If you have any certifications, make sure those stay current.
Qualities of top earners
Great healthcare recruiters are more than just on-paper qualifications though. To be successful in this kind of position, you'll need what some articles call "soft skills." Here are the top soft skills needed to be a recruiter.
Great communication skills. As a recruiter, you interact with new people every day. As a healthcare recruiter, you're not only interacting with new people, you're interacting with new people who are extremely busy. Being able to succinctly and clearly explain who you are and what the position entails is essential.
Persistence. In recruiting, you might hear no ten times before you hear a yes. Learning to persevere in the face of rejection makes you even more effective.
A sales-minded attitude. According to HealthCare Recruiters International, having experience in sales and marketing can be invaluable, since you are essentially selling a position to a nurse, doctor, or IT professional.
Creativity. Being willing to research, dig deep, and find qualified candidates takes a certain amount of creativity. This will also serve you well when thinking about how to become better at connecting with candidates and finding new opportunities.
How good recruiters become exceptional
If you're already working as a recruiter, working specifically in healthcare can take your skills to the next level. Here's how:
Build a network and a reputation — If you regularly delight clients and candidates by facilitating great matches, you're going to have an easy time finding more candidates and clients.
Find your niche — Work to establish expertise in a specific recruiting track (for example: helping veterans transition to civilian healthcare jobs). This will help you hone your skills and identify exactly what makes a great candidate in that niche.
Find solutions to industry challenges — the talent shortage and budget cuts demand creative solutions from the best recruiters. If you can show that you're actively pursuing creative solutions, you'll become more sought after in your industry.
Leverage Technology — Technology now exists for you to easily track and manage all your candidates in one spot. Using technology can show that you're adept at managing complex systems, and will also allow you to better stay on top of your candidates and clients, without anyone slipping through the cracks.
Leveraging technology is also beneficial:
For reducing information silos between applicant tracking, credential management, CRM, and other systems
For promoting job openings: online advertising
For attracting candidates: social networking and crowdsourcing
If you're looking to take your healthcare recruiting to the next level, Relode is a great way to maximize your earnings and put your skills to use wherever, whenever. You can read about how recruiters like you are finding success with Relode here, and learn more about becoming a virtual recruiter here.